Introducing our latest addition to our patio furniture collection – the Nature Patio Teak Wood Bar Set. Manufactured in our state-of-the-art Patio Furniture Factory, this exquisite bar set combines elegant design, sturdy construction, and premium materials to create the perfect outdoor entertaining space.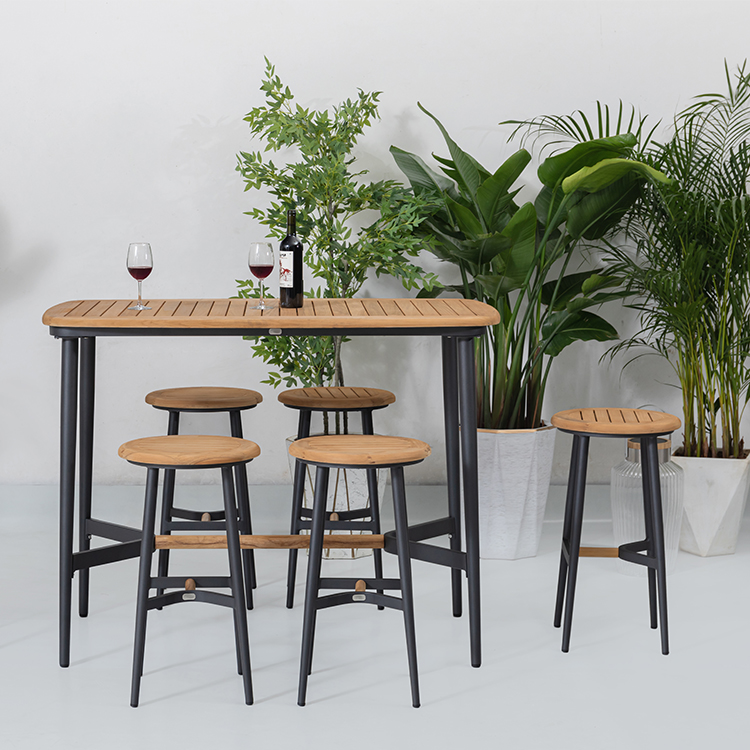 One of the standout features of this bar set is the Alum Teak Bar Chair. Crafted with comfort and durability in mind, the seat is made of high-quality teak wood, known for its natural beauty and resistance to the elements. With a thickness of 25mm, this teak wood seat provides unparalleled comfort and support for hours of relaxation.
The Alum Tube frame of the bar chair is another highlight of this exceptional set. Made from φ30*1.5mm aluminum, the frame is not only lightweight but also incredibly robust. The aluminum tubing ensures that the chair remains strong and sturdy, even in various weather conditions. Additionally, the frame is coated with powder coating to protect it from rust and enhance its longevity.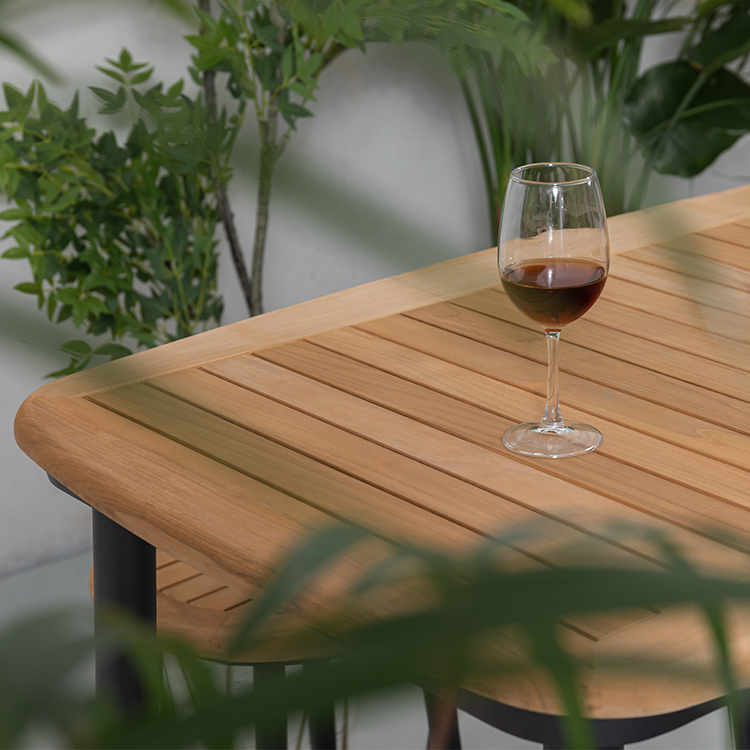 Our Nature Patio Teak Wood Bar Set is carefully designed to create a harmonious blend of natural beauty and modern functionality. The warm tones of the teak wood beautifully complement any outdoor setting, while the sleek lines and minimalistic design add a touch of contemporary elegance.
Whether you are hosting a backyard barbecue, enjoying a summer cocktail under the stars, or simply relaxing with a book in hand, this bar set will elevate your outdoor experience. The spacious bar table provides ample room for preparing and serving drinks and snacks, while the comfortable bar chairs invite you to unwind and enjoy the company of friends and loved ones.
Investing in our Nature Patio Teak Wood Bar Set will not only transform your outdoor space but also offer longevity and durability. With its exceptional craftsmanship and premium materials, this bar set is built to withstand the test of time.
Upgrade your patio furniture with the Nature Patio Teak Wood Bar Set and create an outdoor oasis that exudes style and functionality. Experience the perfect balance of nature and modern design in your own backyard.
---
Post time: Aug-03-2023